PU (EXPRESS) MONTAGE ADHESIVE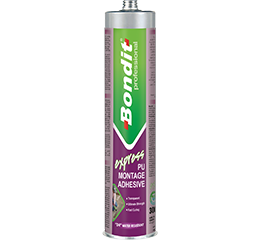 Express Montage Adhesive is a single component, fast curing polyurathane based adhesive It combines high bond strength with fast curing. It's used to bond almost all common building materials.
PROPERTIES
Fast curing
Low press time
Transparent
Exteremely high bond strength on numerous substrates.
Thixotropic, non-sag, ideal for vertical joints.
Low consumption, economical
Good filling properties
Conforms to D4 according to DIN EN 204
Easy to use
User friendly:allows repositioning
Very good resistance to chemicals.
Excellent resitance to moisture and weather conditions.
Nonshrinking
Low odour
Usabable in slightly wet substrates
APPLICATIONS
It is suitable for use in construction and repair applications where a permanent strong bond is required between porous-porous and porous-nonporous surfaces. It can be used for bonding to various kinds of construction materials such as wood, MDF, concrete, metal, polystyrene and polyurethane foam, PVC, marble, granite, polycarbonate, glass and ceramic etc.